Following years of development, Cuddon have successfully tested a new carbon dioxide (CO2) powered Freeze Dryer that is set to have a huge impact on the industry.
In a time where we challenge ourselves to reduce our footprint, work more sustainably and consider our effects on the environment, the new Cuddon Freeze Dry CO2 machine ticks a lot of boxes. Using CO2 as the freeze dryer refrigerant to replace traditional high global warming potential refrigerants is a significant milestone, reducing the environmental impact by more than four thousand times by the use of this natural gas.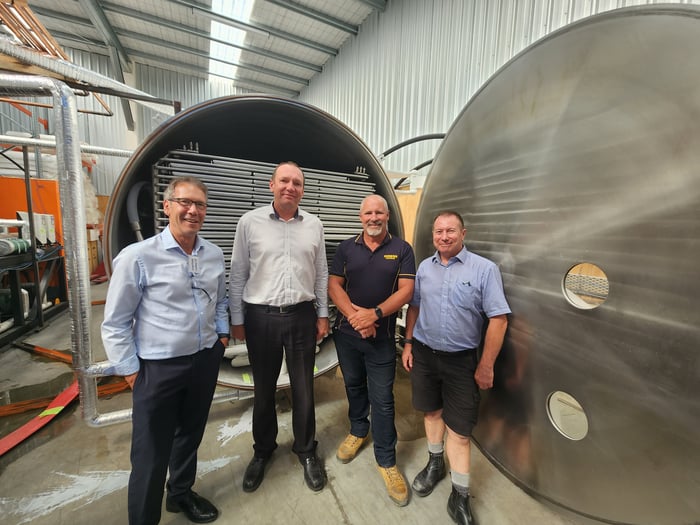 Pictured L to R: Local MP Stuart Smith, Cuddon CEO Terry Duff, Freeze Dry supervisor Jim Luff & Freeze Dry Project Manager Steve Hutchinson
Globally the use of trans-critical CO2 as a refrigerant is becoming more common, however engineering challenges such as gas pressures of 120 bar that is 10 times higher than previous equipment required significant design work. Along with being environmentally friendly, the new Freeze Dryer design also brings other advantages such as commercially having a 30% higher product capacity, a shorter drying cycle and operational energy savings.
"We are excited to be leading the charge with the CO2 Freeze Dryer, a game changer for our customers around the world as we continue the Cuddon tradition of being at the forefront of innovation and now striving for sustainable quality engineering solutions" says Terry Duff, CEO of Cuddon Ltd.
Cuddon have been producing freeze dry systems for 60 years and have now built, shipped and installed over 450 freeze dryers globally. The team at Cuddon Freeze Dry work with businesses and organisations operating internationally in the areas of food, nutraceutical and pet food to name just a few. The development of the CO2 system comes after extensive research and development by the team at Cuddon Freeze Dry who have already received orders from overseas and within NZ.
The new CO2 Cuddon Freeze Dryer will be showcased globally this year at the European Foodex, American Pet Food Forum and the American Dairy Producers Institute.
Over the past few years the Cuddon team has grown to a staff of 95, firmly focussed on being world leaders in Freeze Drying technologies with 8 dedicated professional engineers working on overcoming engineering challenges. Recently, Cuddon delivered a Freeze Dryer to Melbourne specifically designed to restore flood damaged documents, one of a number around the world.

Now it's in 86th year, Cuddon Engineering's expertise continues to support a number of local industries and the Marlborough community with its fabrication, water engineering and commercial refrigeration divisions as well as their global freeze dry clients.