Cuddon Freeze dryers are designed with quality, durability and easy of use in mind. Our heat modules are an example of this with 4 benefits over other freeze dryer styles.
Each module plate is built in 304 stainless steel in our factory, quality checked and tested to ensure they with stand the parameters of the freeze dryer and the clients expectations.
1. Conductive Drying - Two of the most common ways to apply heat (energy) your product is conductive and radiant.
Main differences:
Conductive
Radiant

Product trays sit directly on the heating shelf
Trays are loaded directly on the shelf.
Less heat required for drying (up to 60C)
Ideal for heat sensitive products
Good control of heat temperature
Uses refrigeration to lower shelf temperature
Freeze in place
Slower drying time but better quality finished product

Product trays sit in cradle suspended on mono rail
Cradle pushed in to chamber
Product trays loaded by hand in to cradle
Trays suspended between heat plates and require higher heat - up to 120C
no cooling of heat plates quickly once drying completed
No freeze in place
Can dry faster but to the determinant of the product
2. Freeze in Place - The ability to freeze products inside the chamber has its benefits especially for liquid products however this can add up to 6 hrs to the production cycle.
Another benefit is the ability to cool the shelves down to the same temperature as the product when loading from the freezer which eliminates the start of thawing of the of the product before a vacuum is established. The main reason to freeze products solid is to make sure the ice crystals are in a stable form before lowering the pressure in the chamber. If the water molecules are not stable when a vacuum is achieved then they may cause foaming or expansion of products. See this post for more details.
Turn around time from unloading, defrosting and loading a large Cuddon dryer can be as quick as 2 hrs including bring the shelf temperature below 0C.
3. Removable Modules - Although not required every time for cleaning, easily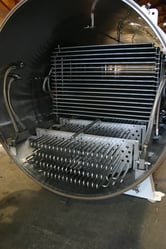 removable modules allow for better quality control and inspections. Electric Heat modules are limited in how they are cleaned and do not like having water sprayed on them. Other modules with water / oil mixture in them are generally hard plumbed in and require to be inspected while inside the chamber.
4. Easy Clean - Requirements from industries sees better design for cleaning of the shelves. The Cuddon module has a flat plate both top and bottom with a gylcol running through the inside. It is easy to use a high pressure hose or water blaster when cleaning the shelves and as everything in the chamber is made from stainless steel, using a cleaning agent or chemical is perfectly fine.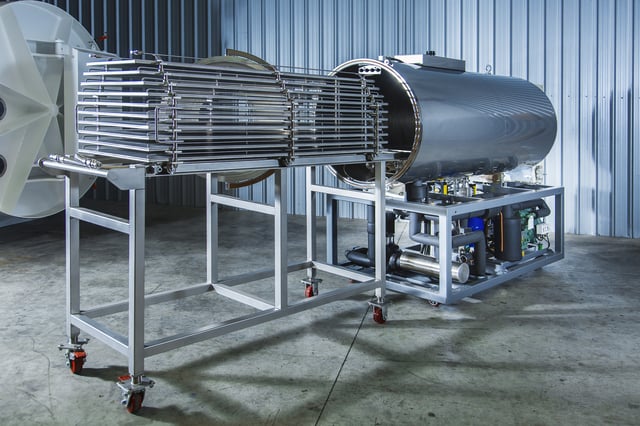 To find out more about Cuddon Freeze Dryers, please contact us here or have a look at our product page.